RealVMS
Simply the Most Powerful Enterprise
Platform for Operational Execution
Perfect For 

Facility / 

Security / QSR / Retail / Everything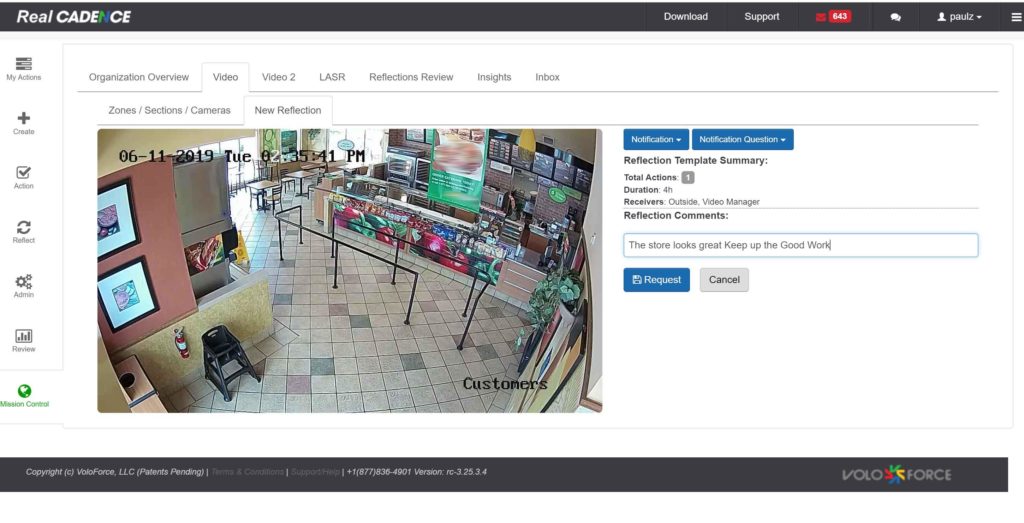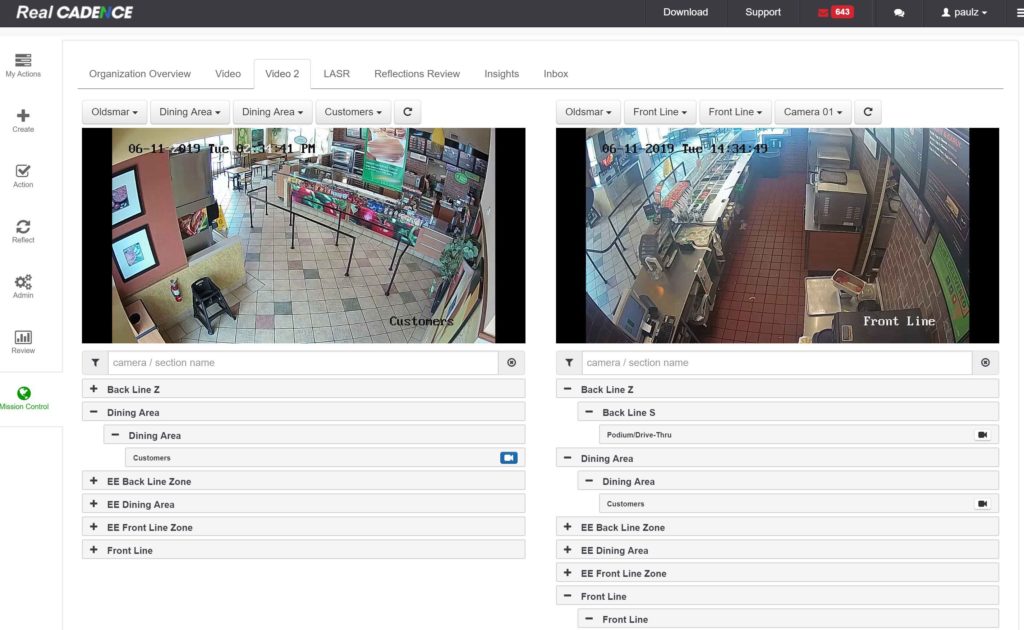 RealCADENCE™ VMS
RealCADENCE™ unleashes the power of video and transforms your Loss prevention system into an enterprise operational tool for any industry. We take the complicated out of using video, and make it easy for a manager to do virtual visits. Search on key word such as product name or areas to call up cameras. Save money by spending less time driving and walking and see what needs to be seen.
RealCADENCE™ VMS will allow you to visit locations hourly instead of weekly. Returning savings to the bottom line. Resolve challenges in real-time from any Tablet or Computer.
RealCADENCE™ VMS will also enhance you existing Loss prevention's team to leverage the power of checklists, forms, and reports. They will be able to see important things happen such as Deposits, Inventory allocation, and anything they want to measure through the power of our mobile app, and most importantly communicate directly through the use of video .
Lights Camera Action
RealCADENCE™ allows any qualified user to take action on any number of organizational predefined templates to create Actions/Tasks through the power of our RealCADENCE™ VMS. Point and shoot technology makes it that easy and this is what makes virtual visits with RealCADENCE™ VMS so powerful. Call up a camera by area, zone or category, and if you see something out of place simply create a task and take action with just a click. That task goes directly to the person in charge of that area and our solution collects evidence and informs you that the task has been completed.
One person can now do the job of 20 people with the power of RealCADENCE™ VMS, which allows you to reinvest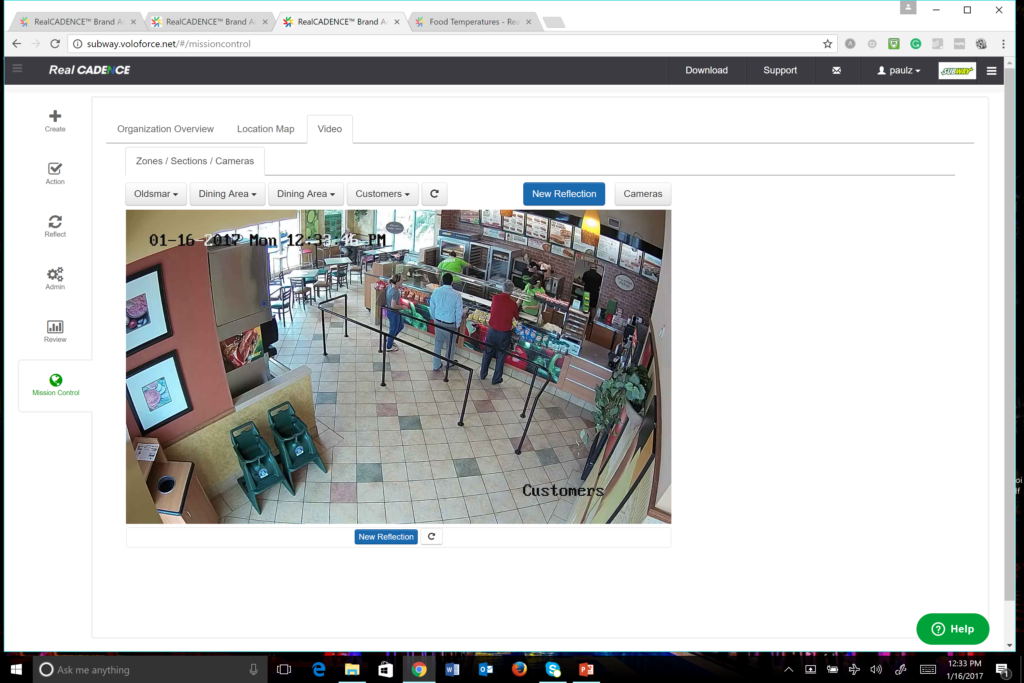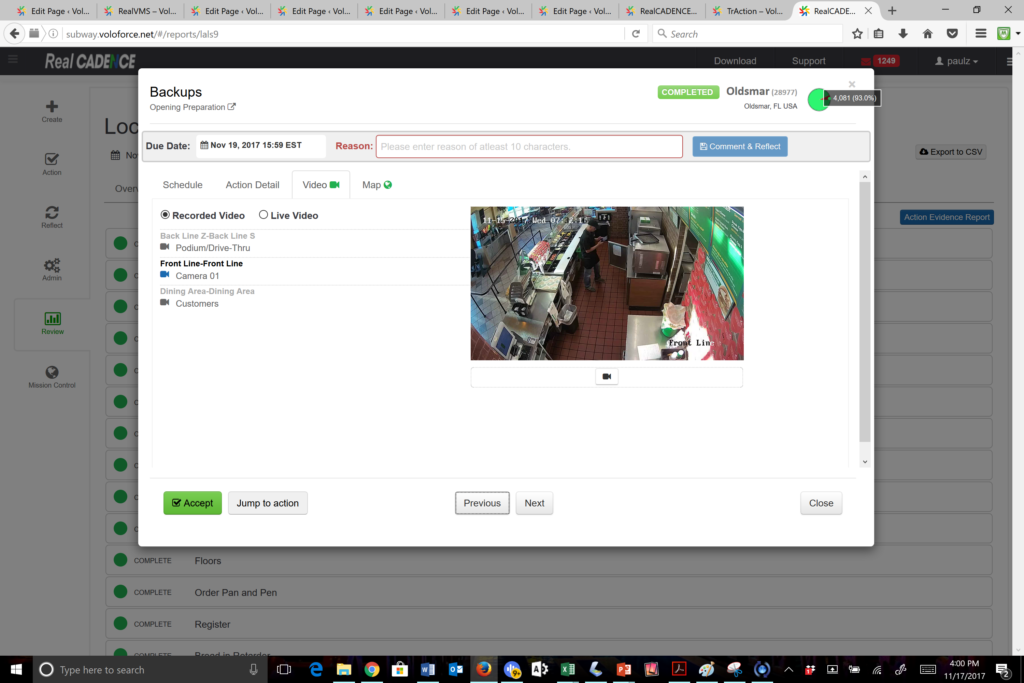 Action/Task Video Review
Organizations spend a fortune on training and retraining, so for the first time using RealCADENCE™ VMS you have the ability to see that training come to life. If there needs to be some corrections no need to retrain, make it happen through the power off the RealCADENCE™ Mobile App. Directly communicate, comment and take action in real-time..
By seeing more clearly, now your organization can make better decisions in redefining processes and strategies. You no longer have to search video to find what your looking for. Each completed action is sent to your RealCADENCE™ inbox or you can search using our BI tools, video is tagged and displayed bringing your data to life. Thumbnails allow you to review data quickly then just press play to see the rest.
RealCADENCE™ VMS will improve and enhance the way Operations, and Loss Prevention works today bringing real savings to the bottom line guaranteed.